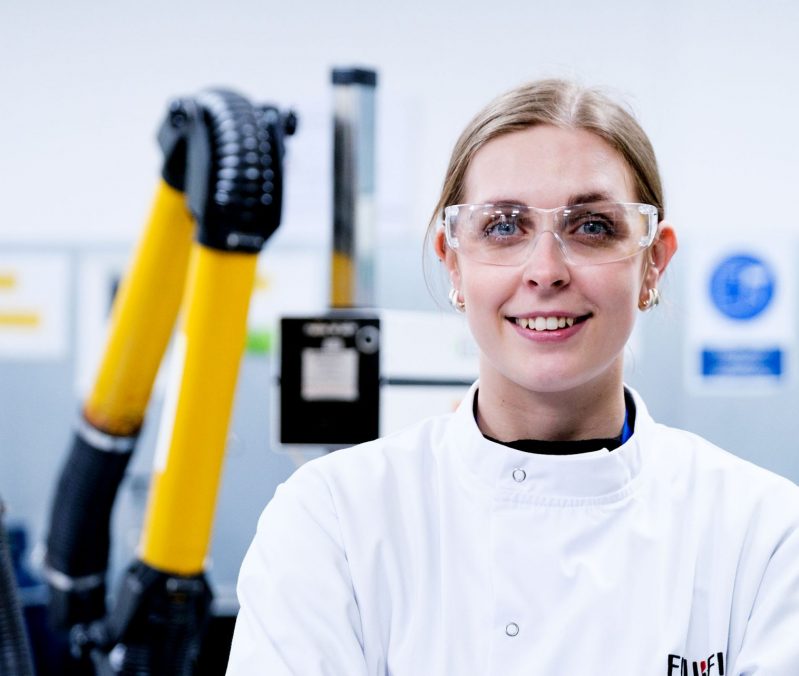 Inkjet careers at Fujifilm
The Fujifilm philosophy of continuous investment starts with our people.
Working for FUJIFILM Ink Solutions Group
Hundreds of our global experts work in a collaborative, authentic, and trustworthy way. The Fujifilm philosophy of continuous investment in research, development, manufacturing, and our people, helps us consistently deliver high quality, first-class solutions for our customers.
We have centres of excellence around the world and you could have the opportunity to share our passion for inkjet, inks and technology. Whatever your specialization, if you think you could be a great fit for our team, talk to us about your experience, and how you can make a difference.
What we offer
If you would like to join us on our journey, we have a global network of site-based and remote personnel. We provide a fair and friendly workplace.
Our Group has a solid commitment to inclusion, diversity, and equal opportunities. To succeed together, we support you to develop and grow professionally to achieve your best work results so far.
Career options
Our global team of experts in ink is supported by dedicated technology development facilities and specialized manufacturing centres around the world. They work in research and development, manufacturing, supply chain, commercial and application support, as well as all the other essential functions that make our business work.
A future in technology
Behind the science and the engineering of inkjet we have highly skilled experts ready to deliver the best results. We invest a lot of time and resources in ensuring that our inks and dispersions are developed for real-world performance in the print system and final application, helping our customers to reduce risk and wider implementation costs.
If you have an innovative technical background in engineering or science, you could consider becoming part of our team.
Creativity
We welcome innovation, creativity, and change, and we embrace new and visionary ideas.
Teamwork
We listen, we communicate, and we are stronger as one team.
Integrity
As a company we act with integrity, respect, and we behave ethically with all stakeholders.
Accountability
We deliver on our commitments and we make it happen.
Responsibility
We take responsibility for our actions and contribute to the communities in which we operate.
Leading chemical company
Polymer Chemist (Current Employee) - Grangemouth, Scotland: "Great salary and benefits better than expected. Holidays are better than expected. Once you join, you will hesitate to leave. Friendly people and a vivid atmosphere. Great work-life balance. Expertise in chemistry and inks."
Great camaraderie
Mechanical Fitter (Former Employee) – Broadstairs, UK: "Great place to work, very good benefits and working conditions. Health and safety are a priority, as is working safely. On site restaurant."
Close, friendly work environment with wide variety 
Laboratory Technician (Current Employee) - New Castle, DE, USA: "Great place to work. Fair pay, decent benefits, variety or working divisions necessary for business. Promotes from within, solves problems internally, and keeps a strong feeling of small business comfort." 
Early careers
At Fujifilm we support the next generation. We are open to receive apprentices, offer graduate programmes, and internships, where we can share our expertise in chemistry and ink. Express your interest by sending an enquiry to our HR colleagues.
Student and graduate opportunities
Are you a science or engineering student or graduate eager to progress in your career? Apply here. Talk to us about our placement programs, working within our global team of experts in inkjet chemistry and engineering.
Learn more
Related articles
Want to be part of our group?
If you think you have the values and passion to become part of our ink community, tell us how you can make a difference.